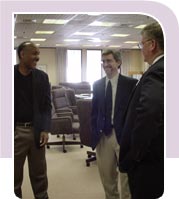 Case Studies
Hospital Information Systems
Multi Facility Implementation
One of our larger customers (8 Hospitals, 16,000 employees) chose to install McKesson's suite of clinical and financial applications. The project team from the IT staff included 25 project managers and coordinators. The organization had just lost two of their internal resources and needed to get someone to quickly step in and fill their gaps. River North was selected to manage all conversions and provide patient processing project management.
Solution
Our team was able to quickly step in and provide the right mix of project management, application, and conversion consulting to help the organization stay on track and successfully install these applications.
Results
The recommendations and guidance provided by River North enabled the hospital to stay on track with their projected timeline for the conversion.
---
related links
ALL Case Studies