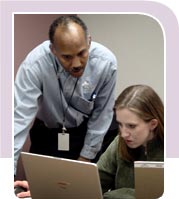 River North Change and Configuration Management
River North professionals bring process, methodology and supporting tools' best practices to bear on implementing and/or streamlining your Change and Configuration Management solutions.
The following River North services reflect decades of practical Change and Configuration Management experience using both IBM Rational Telelogic Change and Synergy, and IBM Rational ClearCase and ClearQuest tools in the analysis, design, implementation and usage of processes, methodologies and tools, as well as all facets of tool support, training and mentoring.
Download River North's Change and Configuration Management Services Brochure.
Change/Configuration Management Consulting Services
Change/Configuration Management Implementation
Environments
Storage
Process and methodology best practices
Hardware and software requirements
Failover
Backups
Release structure
Lifecycle definition
Configuration item identification
Migration of code



Change/Configuration Management for Developing
Training
1 on 1
Build process
Integration process
Best practices



Change/Configuration Management Administration
Troubleshooting
Automation
Reporting
Logging
High-availability failover
Integration between change/configuration management tools
Integration with requirements management
Status accounting
Best practices



Distributed Change/Configuration Management
Multi-site
Manual set up
Full documentation
Full automation
Troubleshooting
Full logging and reporting
Best practices



Change, Issue, Action Management Implementation
Fully customized lifecycle documentation
Logging
Reporting and trend analysis



Other
Temporary staff augmentation
Change/Configuration Management Training
River North recommends customized courses for the following areas. This means that the material will be customized to fit the local environment as well as data. Times are flexible and depend on number of students. Laboratory work can be included with additional time, dependent upon available resources. Number of participants can be between 1 and about 20. Larger classes will take more time due to the interactive nature of the courses.


Developer Quick Start
- 1-3 hours - Includes short SCCM (Software Change and Configuration Management) overview



Full Developer Course
- 4-6 hours - Goes in depth to show why each operation is performed, and how each is organized in "A day in the life of a developer" format.



Build Manager Course
- 2-4 hours - Includes conglomerate projects, integrating work from others, releases, and pushing changes out to the development community. When applicable, includes parallel development streams, as well as the effects of a Distributed CM implementation on the BM (build manager) duties.



Administrator Course
- 2-5 hours - Includes the processes, and how they run. Troubleshooting, log files, commonly seen potholes, automation, and backups. If time allows, this can go into discussion of a full high availability failover type implementation. If applicable, this section would also cover distributed CM (DCM) functionality within Synergy and its possible uses.



DCM Course
- 2-6 hours – Can be conducted separately on its own and can cover from as little as the administrator's role in a fully manual DCM system to a fully automated system that would require no attention, yet would have a noticeable effect on the BM and administrator's duties.